It's been a long two weeks without the LEC but we're finally about to head back on the stage. On Friday we have the Match of the Week against Splyce who defeated us in the Spring Playoffs, while on Saturday we will face the so far winless EXCEL and make sure they stay so.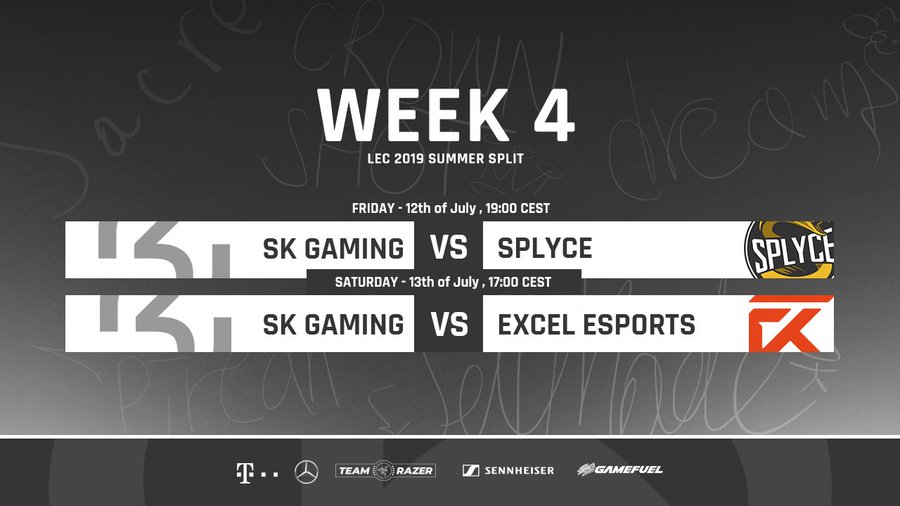 Splyce >
SK Gaming - 19:00 CEST, 12.07
Splyce Roster
SK Gaming Roster


Top: Vizicsacsi
Jungle: Xerxe
Mid: Humanoid
Bot: Kobbe
Support: Norskeren


Top: Sacre
Jungle: Selfmade
Mid: Pirean
Bot: Crownshot
Support: Dreams
Despite our best efforts, we couldn't find good openings to engage on Splyce throughout the early and mid game and their lane priority allowed them to pick many dragons and extend their lead. We managed to sneak in a baron but paid for it with 4 deaths and couldn't capitalise on it. The next one was picked up by Splyce and they managed to demolish the majority of our base before our last stand of a fight wasn't a success either, and they succesfully closed out the game.
SK Gaming <
EXCEL - 17:00 CET, 13.07
SK Gaming Roster
EXCEL Roster


Top: Sacre
Jungle: Selfmade
Mid: Pirean
Bot: Crownshot
Support: Dreams


Top: Expect
Jungle: Caedrel
Mid: Mickey
Bot: Jeskla
Support: Mistiques
The early game was once again in our disadvantage. We tried to stall and scale our laners but a baron call ended up costing us not only an inhibitor but the nexus as well.
Irena fell in love with esports when she watched the Season 1 LoL Championship. Nowadays she enjoys superheroes, fantasy books and Asian food.
SHOP
CHECK OUT
THE NEW JERSEY