The group stage of the tournament is coming to an end as tonight two teams will move directly to the semi-finals, two knocked out and the remaining four will match up on Saturday for the last two spots.
SK Gaming are currently sitting in a bad spot and need to win both matches against HellRaisers to have a chance to reach the playoffs, which will be drafted tonight.
We will constantly renew this article with the latest results and upcoming matches from the third day of EPICENTER: Moscow 2016 below.
As usual more information can be found in our event
guide
. Stay tuned to.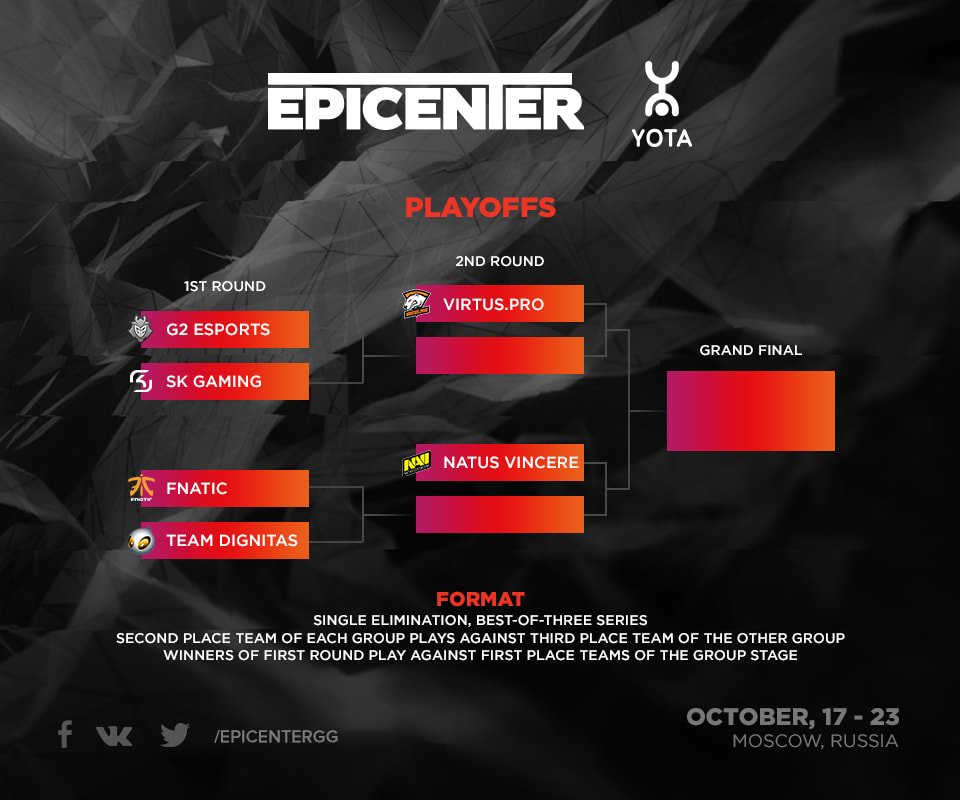 Results and upcoming matches:
Group stage:
2016-10-19 10:00 CEST -
G2 Esports =
Team Dignitas
(Maps:
14-16 on de_dust2
&
16-12 on de_overpass
)
2016-10-19 13:00 CEST -
SK Gaming >
HellRaisers
(Maps:
16-5 on de_overpass
&
16-6 on de_cbble
)
2016-10-19 16:00 CEST -
Natus Vincere =
Ninjas in Pyjamas
(Maps:
11-16 on de_nuke
&
16-3 on de_overpass
)
2016-10-19 19:00 CEST -
Virtus.pro =
Fnatic
(Maps:
16-11 on de_cbble
&
13-16 on de_mirage
)
SK Gaming at EPICENTER Moscow 2016:
SK Gaming vs.
HellRaisers
Group Stage - Match-up #3
16-5 (13:2, 3:3) on de_overpass
16-6 (14:1, 2:5) on de_cbble
Our third and final match in Group B was against HellRaisers with the maps being Overpass and Cobblestone, respectively. Starting as CT on Overpass, SK Gaming won the pistol round thanks to
Lincoln 'fnx' Lau
's three kills. Our Brazilians continued to reign supreme as we saw the team winning eight rounds in a row, including the first weapon round.
Fernando 'fer' Alvarenga
clutched an important one-on-two situation during the ninth round.
Gabriel 'FalleN' Toledo
's entry frags with the big green gun kept the Brazilian powerhouse in a constant winning position. SK Gaming also won the last round of the first half with
Epitácio 'TACO' de Melo Filho
taking care of the situation.
HellRaisers secured the pistol round, but FalleN and his troops wiped out bombsite A in seconds during the first gun round of the second half, which resulted in an economic reset and soon after, a first map victory in our favor.
The second map was Cobblestone and our team was once again constantly winning in a dominant style. With countless aggressive and ruthless approaches, our Brazilian team managed to win fourteen rounds in a row starting from the pistol round, but unluckily HellRaisers managed to take away the last round of the first half.
HellRaisers had a brief relief in the beginning of the second half, winning five rounds in a row, including the first gun round, but despite
Bence 'DeadFox' Böröcz
and
Kiril 'ANGE1' Karasiow
's respectable individual performance, fer was able to take the final round of the series by spraying down three with M4A4.
SK Gaming will face the French team G2 Esports as next opponents in the playoffs.
Counter-Strike expert, writer, analyst and former competitive player with more than 15 years of experience within the discipline. Working with SK Gaming and ESEA.
SHOP
CHECK OUT
THE NEW JERSEY